It takes a village to make a movie! Here is some of our team, below. We live all over the place, have incredibly different backgrounds. We have one thing in common: we are all artists, and we all care deeply about the world we live in, and trying to make work that brings some beauty and understanding to it. That's why we've joined together to make this film. More people are coming on board, every day!
WRITER / DIRECTOR / PRODUCER | Ann Marie Fleming
Ann Marie has been making award-winning films for over 25 years that deal with family, history, memory and issues of identity. NEW SHOES, BLUE SKIES, I WAS A CHILD OF HOLOCAUST SURVIVORS, even the dark THE FRENCH GUY all deal with tough subjects with a light touch. She adapted her animated feature doc, THE MAGICAL LIFE OF LONG TACK SAM into a graphic novel, which won Best Canadian Comic and was nominated for 2 Eisner Awards. WINDOW HORSES comes out of a combination of her own personal experiences and the stories of others she has collected and imagined along her peripatetic journey through life. She is mixed race, calls Canada her home, and that has affected everything she does.
MUSE | Stickgirl
Stickgirl has been making work with AMF for over 25 years, has been in shorts, webisodes, documentaries, and narrated the award-winning graphic novel, "The Magical Life of Long Tack". Rosie Ming is her first dramatic feature role. She is very excited to be working with Sandra Oh to bring this character to life!
ACTOR / PRODUCER | Sandra Oh
Best known for her work as Cristina Yang in GREY'S ANATOMY, this versatile Korean-Canadian actress has also starred in SIDEWAYS, ARLI$$, UNDER THE TUSCAN SUN, LAST NIGHT & DOUBLE HAPPINESS. Most recently on stage in DEATH AND THE MAIDEN, one of Sandra's career highlights was as the Cookie Fairy on SESAME STREET. Her work is about transformation!
ANIMATOR / DESIGNER | Kevin Langdale
Kevin Langdale, our amazing lead animator and designer is also a filmmaker ENGINE 317 - about the building of the Canadian transcontinental railway and it's cost to the social and physical environment for the National Film Board of Canada), has also worked as a magazine illustrator and has collaborated with Ann Marie Fleming for several years on projects as varied as I WAS A CHILD OF HOLOCAUST SURVIVORS to Stickgirl's PLANET GREEN webisodes.
ANIMATOR / CALLIGRAPHY | Ge Younger Yang
Ge Younger Yang, game concept and character designer, animator, calligrapher and master painter, Younger studied and taught at the Hang Zhou Art College and is an award-winning member of the Chinese Artists Association. He worked with Ann Marie on her animated documentary, THE MAGICAL LIFE OF LONG TACK SAM using traditional Chinese watercolour technique and is a student of Tang Dynasty Poetry.
ANIMATOR /MUSIC CONSULTANT | Mashallah Mohammedy
Mashallah Mohammedy is Iranian animator and painter. Ann Marie reached out to him after seeing his award-winning film, HUMAN BEINGS, which is all about building bridges across cultures through sharing common experiences. Mashaallah knows that sometimes the simple, gesture of the stick figure is the most personal universal form of expression.
ANIMATOR / DESIGNER | Shira Avni
Shira Avni is a Montreal animator and educator. Her emotive, award-winning films include JOHN AND MICHAEL with the NFB, about two men with Downes Syndrome who share a loving friendship, and PETRA'S POEM. Shira and Ann Maries shares the space with that of the animated documentary.
ANIMATOR / DESIGNER | Louise Johnson
Louise Johnson is a Montreal animator and director who works with many techniques, including sand on glass. Her films often deal with themes of abuse vs civility and of conflict resolution. Films that make you think! Ann Marie has been a fan of Louise's since seeing her Concordia grad film about an inner self just itching to get out.
ANIMATOR / DESIGNER | Lillian Chan
Lillian Chan is a Toronto-based animator, designer and filmmaker who's work, from JAMIE LO: SMALL AND SHY about a Chinese Canadian girl who misses her father, to her TEDx piece WHERE HAVE ALL THE HONEYBEES GONE? is about the little but important stories. She also collaborated with Ann Marie on I WAS A CHILD OF HOLOCAUST SURVIVORS.
ANIMATOR / DESIGNER | Jody Kramer
Jody Kramer is a BC-based educator and animator whose personal films from PINCH, a film about co-dependency that kids love, to LOST MONSTER HOP which celebrates her love of blue-grass, to DON'T TELL SANTA YOU'RE JEWISH all have a sense of sad-sweetness that make you feel life is precious.
ANIMATOR / DESIGNER | Bahram Javahari
Bahram Javahari, originally from Iran is a multi-media artist who inspired by the works of Norman McLaren, has created many animated films, in different styles, from 3D to paint-on-glass, pixilation to cut-out that comment on the present and look ahead to a future of better understanding. He now calls Canada's west coast his home.
EDITOR | Ileana Pietrobruno
Ileana Pietrobruno is a courageous filmmaker and seasoned editor whose own works constantly question identity and challenge sometimes even her own point of view, from GIRL KING to GIRLFRIEND EXPERIENCE. Ann Marie loves working with her because she listens to, pushes and respects the storytelling process.
CALLIGRAPHY | Yadollah Kaboli
Yadollah Kaboli is a master calligrapher from Iran, whose work has been shown everywhere from Persian textbooks to the Hollywood Bowl. He has recently moved to Vancouver, B.C.
(Master Yadollah's) Calligraphy is the image of the spiritual universe reflected in the physical world... It is the expression of the heart's joy…" Dr. Elahi Ghomshei (Goethe Gallery)
SINGER / MUSIC CONSULTANT | Jamal Salavati Kurdistani
Ann Marie discovered Jamal Salavati at a Coleman Barks Rumi Reading as part of the Indian Summer Festival in Vancovour, at St. Andrew's Wesley Church. He was performing with traditional Persian musicians and when he sang, even the wind stopped to listen. 
SOUND DESIGNER | Gordon Durity
Gordon Durity has over twenty-eight years experience in creating soundtracks, musical composition and producing audio in the areas of film, television, games, multimedia, and album production. He has won numerous awards, worked with major labels and artists and currently serves as the Executive Audio Director at Electronic Arts (EA Studios), where helps define the audio vision for various games.
POET | Taylor Mali
Taylor Mali is a poet, educator, and teacher advocate, as well as the author of the poems WHAT TEACHERS MAKE, and THE IMPOTENCE OF PROOFREADING. Ann Marie met him at a poetry slam with Shane Koyczan in Portland, Oregon and immediately felt better about the world. He wrote a poem for the film.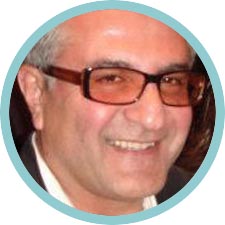 CULTURAL CONSULTANT | Mehrdad Farbod
Mehrdad Farbod's experience as part of the Iranian diaspora is one of the touchstones of this story. He has given us his support and expertise over the many years of the development of this film.
OUR NEW TEAM MEMBERS:
CULTURAL SCRIPT CONSULTANT, COMMUNITY OUTREACH, PUBLICITY:  Maryam Najafi
ANIMATORS: Michael Mann, Janet Perlman, Elisa Chee, Nathaniel Akin, Ian Godfrey
BUSINESS AFFAIRS: Ruth Vincent
SOCIAL MEDIA CO-ORDINATOR/CONTRIBUTOR SUPPORT: Pyrrha Powilanska-Burnell
INTERN: Devon Ellis-Durity