3rd FEBUARY 2015:
Maya and Karen's Meet and Greet with Sandra Oh and Ann Marie Fleming
As apart of the Duet Perk from the Indiegogo Campaign, two very special supporters had the opportunity to dine with Sandra Oh and Ann Marie Fleming. A once in a lifetime experience!
Maya and Karen wrote in to Window Horses to give an account of their experience:
My friend Karen and I had been thinking about the Duet Perk for Window Horses for a while, so we decided to just go for it because we really wanted to help the film and dinner with Sandra and Ann Marie was a plus. So a date was set for February 3 for our lunch in L. A. Karen and I arrived at the dim sum restaurant first to discover the place had closed down two days earlier! AMF and Sandra contacted us followed by a lot of laughs at the timing of the situation. We went to find another place to go, hopped in their car and headed toward Japantown. It ended up being quite an adventure to say the least!
First, we had lunch at a handmade udon noodle place, then found some macaroon bakery, and ended up having dessert at a donut shop we found. Sandra and Ann Marie asked us how we met and know each other.  Sandra and I talked a lot about Broadway theatre productions we have seen and discovered we liked a lot of the same Broadway shows which was fun.  We spoke a little about the play she had performed in Chicago "Death and the Maiden" . Both Karen and I picked Sandra and Ann Marie's brains about independent and foreign films we have seen as Karen had just attended Sundance. Ann Marie and I brought up YouTubers and how some of them are doing unique things. We also had a love fest about the actors and filmmakers we admire. In response to our questions about if she would be spearheading her own projects, Sandra mentioned that she is looking at different projects, trying to figure out what stories she wants to tell.  That she is planning to do a lot of reading  to help that process now that she has some free time for the first time in about 10 busy years. Something we all discussed the converse of  the fact that while people who don't see themselves represented in TV/movies need to see themselves. Many people who do see themselves represented all the time are interested in hearing different stories, such as the one Window Horses is telling.  Sandra was also interested in what TV shows we watch and why. She did say that she would love to work with her Grey's Anatomy co-star Kevin McKidd again which was great to hear. 
Ann Marie spoke about Window Horses and the animation process. She talked about some of the challenges of using animation as a medium such as voice overs and having to tweak them knowing you might not have a chance to re-record a section with an actor. Ann Marie commented on how the funding for Window Horses was going. We discussed how Window Horses is a group effort , many people are involved which will make the final project even more meaningful. Karen also had a book of Rumi's poetry with her and Ann Marie read a passage of it which was the perfect way to end the day! 
Karen and I would like to thank Sandra Oh and Ann Marie for spending so much time with us. It was such a great experience and we had a lot of great memories to take back home. Also, thank you to the Window Horses team, especially Bella, for helping to arrange everything for us! This couldn't have happened without your help! After this experience I am hoping that people will continue supporting Window Horses, because it has a lot of talented hearts and minds behind it. Thanks again everyone! 
Maya and Karen 
22nd NOVEMBER 2014:
Toronto Recording and Sandra Oh In Conversation and Meet and Greet at the Canadian Film Centre
On the 22nd November 2014, Kristen Thomson facilitated an In Conversation with Sandra Oh for the actor's residency at the Canadian Film Centre (CFC)! Following the talk Sandra met 8 Emerging Talents who were invited as apart of the Ingiegogo Campaign, contributed by an anonymous benefactor
Event Account from Sandra Oh
"This is what its all about, connecting and sharing"
TORONTO WAS A GOOD TOUGH AND FULL TRIP.  OUR 1ST DAY OF recording with Shohreh who's voicing Merhnaz, was divine because she's divine and we made the fantastic discovery that Don McKellar was perfect for Deitmar! So another shining Canadian talent joining WH! (p.s I had just asked him to come and read off camera lines but AMF loved his humor and ease and I of course loved working opposite him)
Finished the day talking to KISS FM, the Globe and Mail and ET Canada.
Our 2nd day started with meeting out IGG guests. Great thanks to the anonymous donors who made that happen for all those wonderful young actors. I sat and chatted with a lovely group of up and coming Canadian actors some who are from my alma mater the National Theatre School of Canada woo hoo. We talked about the industry, how to keep things creative and not get bogged down by others expectations of you, who you're "supposed" to be or look like or sound like.  I even got a question about diversifying through "my upcoming vodka line". I was able to turn that into a very important point - people will write anything about you and much of it is false. (Totally untrue that I have a vodka line or anything else in that one article )
Amf and I cried after that meeting cause we both thought -
"this is what its all about, connecting and sharing"
The talk at the CFC moderated by one of the greatest actresses (and NTS classmate) Kristen Thomson went great I thought. Well at least we enjoyed it, and we were able to show not only the WH's trailer but debut stickgirl and Norman Jewison! (keep an eye out for upcoming announcements of this video)
Amazing program that the CFC is running, 6 month acting directing and producing program. Go Canada! Support Canadian Culture yeah! Afterwards Amf and I had a dinner with the acting students…
Day 3 started early with Breakfast Television and the Global's The Morning Show. It was a great record day with Kristen Thomson who plays Caroline, Rosie's mum and Don McKellar who voices Deitmar. (omg there is footage - that we didn't know was being shot -  of Amf, Kristen and I saying nothing but Duo Duo for 4 minutes, its a hilarious look into the actors process)
Window Horses is chugging along but we still need your help!!  thank you for your support.
--- Sandra Oh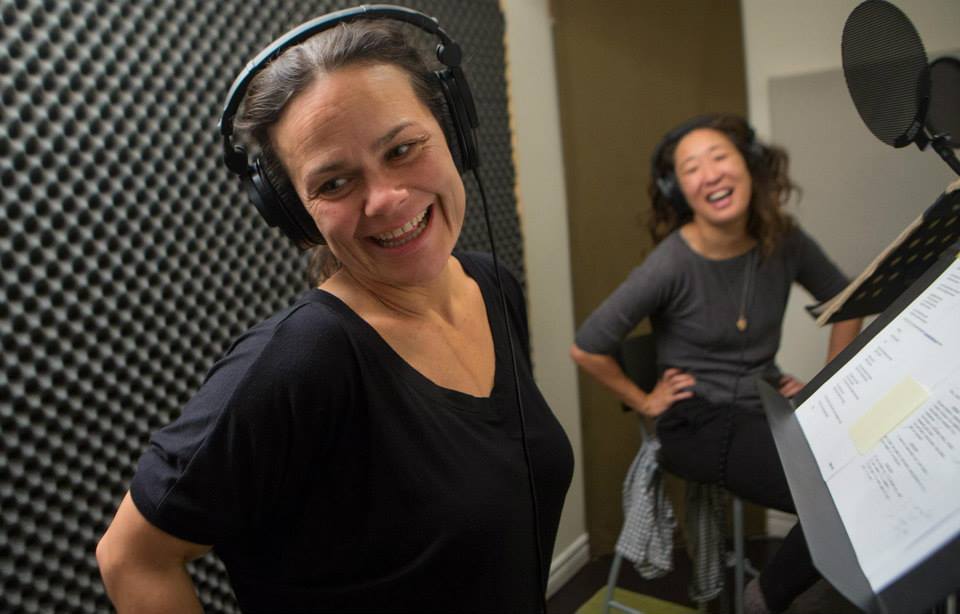 Kristen Thomson and Sandra Oh enjoying the recording process.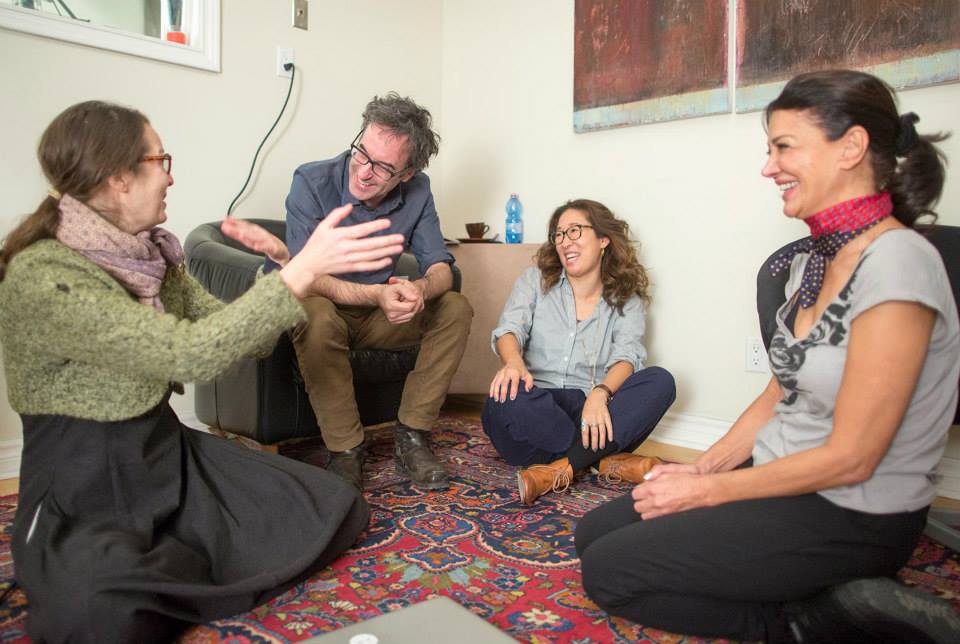 Ann Marie Fleming sharing stories with Don McKellar, Sandra Oh and Shohreh Aghdashloo.
MEET THE IGG PARTICIPANTS: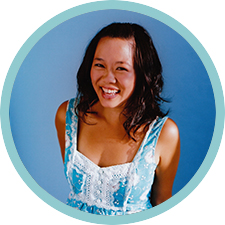 GRACE LYNN KUNG
Grace Lynn Kung is a Canadian Screen Award nominee for Best Leading Comedic Actress, who has studied in England and Canada. She is a graduate of the Ottawa School of Speech and Drama (recipient of the Chancellor's Trophy,) York University (Dean's Honour Roll graduate and received two consecutive Jean Gascon Awards for Acting.) She holds two Certificates of Distinction in Speech and Drama from Trinity College London in the United Kingdom.
Ms Kung has worked alongside Academy and Tony Award winning actors like Eva Marie Saint and Rita Moreno, director-documentarian Léa Pool, Emmy Award winning director-producer Ron Murphy, Gemini Award winning director Jerry Ciccoritti and esteemed writer-director Sarah Polley. She has been a guest on George Stroumboulopoulos Tonight and lent her voice to documentaries, radio plays, adverts and government guides - both in her native Canada and London, England. She has collaborated with playwright Judith Thompson, director Ken Gass on his rejuvenated Canadian Rep Theatre and been a frequent participant in projects with Factory Theatre, Fu-Gen Theatre Company and Cahoots. She played the lead role based on writer-historian Iris Chang in the world premiere of '"a nanking winter" by Marjorie Chan at Nightwood and Janet Kim on Soulpepper's first national tour of the award winning play, "Kim's Convenience" currently being adapted as a feature film and television series.
Other credits include "Slings and Arrows," "Being Erica," "Remedy,""House Party" and "InSecurity." After completing a year-long tour of "Kim's Convenience" Ms Kung starred in "Yukonstyle" for Canadian Stage Company and "La Ronde" for Soulpepper. This month her feature "Bank$tas," with Laura Vandervoort and Alan Thicke, will premiere in the US, she will be a recurring guest on Hard Rock Medical and you'll hear her latest voice endeavour: Ubisoft's newest video game, Far Cry 4.
GRACE'S MEET AND GREET EXPERIENCE
2014 was a tough year. Several personal and professional events converged to bring up a lot of questions. For some time, my beliefs were clashing against the parameters of the business. Some were physical, some were representational and many were ideological. I studied the careers arcs of actresses I admired, I studied diversity statistics, and I studied the landscape of popular film and television and was left wanting. My career had always been my priority and something I worked hard at my whole life.
In continuing, would I be able to marry my desires for the world with the business I am in? I was having a harder and harder time pretending they were aligned. By the time I got the email about meeting Sandra, I was in a grey space. I was frustrated by the gender disparity in our business, tired of tokenism and desperate to change our damaging and unhealthy ideals of a desirable woman. That chilly morning at the CFC, I had no idea how meeting with Ms Oh would be able to speak to so many of the thoughts brewing in my head.
Sandra's generosity was apparent from the moment she walked in the room. She was easy, warm and wanted to know what we were thinking, what our concerns were. I wished my brain a stenotype, recording all the things she said to recall at will. I found myself welling up from the experiences that Sandra shared. "There comes a point when it stops being about getting parts but what you want to say." My heart was overwhelmed. I felt lightened and realigned. We are the only ones crafting our space in the world, in our work and that is the thing that matters. I am forever grateful to Sandra and Window Horses for this experience.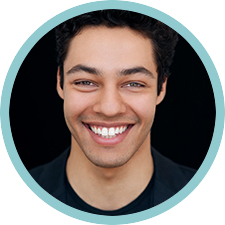 SEBASTIEN HEINS
Sébastien Heins is a Toronto-based actor and arts producer. In 2014, Sébastien mounted his first ever professional production of "Brotherhood: The Hip Hopera," to rave reviews. Prior to that, he won the Best Emerging Artist award at United Solo, the largest solo show festival in the world, in New York City. Sébastien's short film "Her Chance to Dream" received the Urban Stories award at the Toronto Urban Film Festival. He is passionate about telling diverse stories. Sébastien is a proud founding member of Outside the March Theatre Company. OtM won the Outstanding Independent Production award in 2013 for their production of Mr. Marmalade (which invited hundreds of audience members into a kindergarten room), and again in 2014 for their twice-extended production of Vitals (which gave audiences the experience of being on a 911 paramedic call). He is a graduate of the National Theatre School and the recipient of the Tullio Cedrashi Award for outstanding contributions to the school. He is an original cast member of Julie Taymor's the Lion King in Toronto.
Sébastien is dedicated to sharing his passion for theatre with at-risk youth and artistic students, and has taught Vocal Masque technique to students at Weston Mt. Dennis' Urban Arts program, among other schools, as well as his alma mater, Etobicoke School of the Arts. Next, he will travel to Tanzania with a team of artists and educators in Christmas 2014. He will represent theatre arts in an Arts and Physical Education Program that his team is developing at the Olive Branch for Children, an orphanage and AIDS education network. In 2015, he is slated to star in the premiere of Outside the March's highly anticipated production of the Broadway smash hit "Mr. Burns: A Post Electric Play." He is a member of the 14/15 Obsidian Playwright's Unit, writing a new play about Jamaicans fighting in World War 2: Think Cool Runnings meets Inglourious Basterds. His dream is to open "Brotherhood: The Hip Hopera" on Broadway.
SEBASTIEN'S MEET AND GREET EXPERIENCE
I'm a firm believer in the act of leading by example. My father used to call it "talking the talk" and "walking the walk." Sandra Oh does both these things. And she does it with grace, wisdom, and humility. I'm awed by anyone who can operate on her level. She exemplifies a modern Canadian success story, and the fact that she's using her energy, clout, and heart to back such a worthy project as Window Horses is admirable and inspiring. As an artist, I aspire to champion projects I believe in, and Sandra showed that no matter what level you're at, you must be the artistic change you wish to see in the world.
My experience at the Emerging Artist Talk Back with Sandra and Ann Marie came at an important time. Having recently mounted my first professional, self-written stage production, I've been faced with questions like "Are you being unrealistic?", "Are your dreams too big?" and "Is this even possible?" Sandra and the emerging peers who were invited are living proof that there are answers to these questions: Dedication, Vision, and Belief. One of the greatest moments for me came when I looked around the room at the dynamite talent and entrepreneurship surrounding me.
Somehow, having the likes of Leah Doz, Grace Lynn Kung, and the rest of these powerhouses made me feel like, "Well, these guys are definitely worthy of this honour...If I'm counted among them, then by some twist of fate, maybe I'm worth it too. So, Sébastien...what are you gonna do with it?" It was thrilling, inspiring, and I left the CFC grounds excited for the next day to start. I even have a little framed picture of our sit-down on my desk to remember the moment, given to me by my sweetheart who saw the effect it had on me that day.
I want to thank Ann Marie Fleming, the Indiegogo team, Sandra Oh, the CFC, and my mysterious Dickensian benefactor for this deeply appreciated opportunity.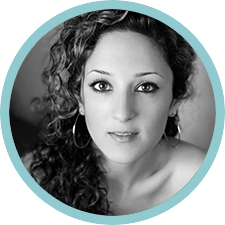 BAHAREH YARAGHI
Bahareh is a theatre, film & TV actress. Born in Iran, raised in Vancouver, she is now a Toronto-based performer. One of Bahareh's passions has always been to travel and to learn from different cultures and languages, which is one of the reasons she's followed a path in storytelling. Her greatest interest has always been the human experience, which makes us all living, breathing stories: the more we learn from one another, the more we understand our neighbours, the better the world.
Bahareh was recently honoured with two Dora Mavor Moore Award nominations in 2014 for her performance inMinotaur: Outstanding Individual Performance & Outstanding Ensemble Performance. Last year, Bahareh was featured as part of the Top 10 "Artists to Watch" in NOW Magazine for Summerworks 2013, as well as nominated for the Equity Emerging Theatre Artist Award in 2011. She is proud to be a Resident Artist with the Dora nominated theatre company, Actors Repertory Company (ARC), bringing international plays that have been done on Toronto stages. Bahareh is an honours graduate of Humber Theatre School, VFS, and holds a BA from McGill University.
Selected theatre credits include: Moment (ARC), Her2 (Nightwood Theatre), Blood Wedding (Modern Times Stage Company/ Aluna Theatre), Minotaur (Young People's Theatre), The Kite Runner (Theatre Calgary/Citadel Theatre), Les Zinspirés (Théâtre Français de Toronto), Bea (ARC), Hallaj (Modern Times Stage Company/ Buddies in Bad Times Theatre), Prisoner of Tehran (Theatre Passe-Muraille/ Contrary Company), Homeland (Vancouver Fringe), Romeo & Juliet, A Midsummer Night's Dream (SIA). Film/TV: Covert Affairs (USA), Instant Star (CTV).
You can follow her:
Twitter: @baharehyaraghi
Instagram: baharehyaraghi
Company website: arcstage.com
BAHAREH'S MEET AND GREET EXPERIENCE
I cannot say enough what a privilege it was to have been invited to meet with Sandra Oh and Ann Marie Fleming, alongside the other six emerging Toronto talents. It was a true honour to sit in such an intimate setting, and to simply discuss and listen to Sandra share her process as an actress, her creative force, her insights about the industry, but most importantly, her wisdom towards her craft and her continuous search for deeper meaning in her work as an actress. I was so overwhelmed with inspiration, overjoyed to have had the chance to listen to such an incredible mentor, and to rediscover the power of creativity and art. This was a very special day. With deepest gratitude, I thank everyone involved who made this possible for myself, and the other invited emerging artists. It was a gift, and I will most definitely do my part in our community and our industry to give back and pay it forward. To Sandra, thank you for fueling me, for inspiring me - thank you deeply for your honesty and your open heart. It was magical. Thank you.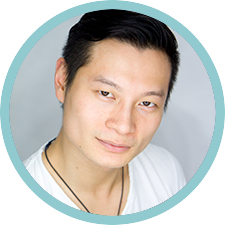 JEFF YUNG
Jeff Yung is a Toronto based actor, director, writer, and physical performer. Over the past seven years he has been acting, creating, and teaching all across the GTA. Most recently Jeff performed as part of the 6th Man Collective in their piece Monday Nights at The Theatre Centre.
Previous credits include, And Now, The End (ante Up Productions), Radical (Gruff Pyg), A Song for Tomorrow (New Harlem Productions and Eventual Ashes), The Story (Theatre Columbus), Pu-Erh (k'Now Theatre), Banana Boys (fu-Gen Theatre), Shotgun Wedding (Carlos Bulosan Theatre), The Unseen Hand (Bleecker Theatre Company), and The Forbidden Phoenix (YTP and MTYP). In 2006 Jeff wrote The Calm Pink Cafe as part of fu-Gen Theatre's Kitchen Potluck Festival, a festival showcasing new work from Asian Canadian Playwrights. An excerpt then produced and read by professional actors on the Factory Theatre main stage. In the summer of 2010 Jeff made his stage directorial debut directing The Boat People by playwright Sylvia Vuong for the Hamilton fringe. Jeff made his Television debut in 2011 playing the menacing Jimmy Ying on CTV's Flashpoint. Other television appearances include Orphan Black (Space) and Nikita (CTV). Jeff's voice over and motion capture work is showcased in the Ubisoft Spy/Action videogame Splinter Cell: Blacklist.
Jeff made his film directorial debut with in-Between, which he also wrote and co-directed. It premiered at the 2011 REEL World Film Festival.
When not working within the arts, Jeff can be found teaching and training Chinese Kung-Fu. He continues to teach weekly children and youth classes at the Frank Mckechnie Community Centre, as well as the Fo Guang Shan Buddhist Temple in Mississauga.
JEFF'S MEET AND GREET EXPERIENCE
Getting the opportunity to meet and talk with someone of Sandra's caliber was incredible. She has a boundless energy and deep humility despite her huge success. As an actor it was incredibly encouraging and reassuring to hear her speak about continued training to renew the strength of one's artistry, as well as some of her personal struggles, past and present, while working in this industry. Both she and Ann Marie Flemming had such a positive force, that it was near impossible not to leave the conversation feeling fully refreshed as an artist!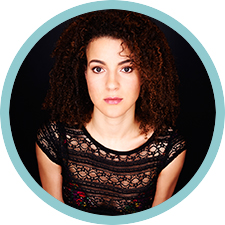 LEAH DOZ
Originally from Edmonton, Leah has performed across Canada. Film credits include Hailstorm (CFC), Issues (BravoFact/Insomniac Productions), Touring T.O. (Bell Fibe Miniseries), Margarita, Dual Suspects, Amalgamations, and her co-created short "Return". Theatre credits include Tartuffe, The Sound of Music, and Enron (National Arts Centre); La Ronde, Great Expectations (My Entertainment World Best Supporting Actress Nomination), Rosencrantz & Guildenstern are Dead (Soulpepper Theatre Company); The Matchmaker and Much Ado About Nothing (Stratford Festival); A Raisin in the Sun (Black Theatre Workshop); Romeo and Juliet (Repercussion Theatre); Oleanna and Autobahn (Seacoast); and her Sterling Award nomination self-written and performed play Nobody's Story. She is a graduate of the National Theatre School of Canada and Seacoast Theatre Centre, and recipient of a Dora Award, Queen's Golden Jubilee Award, and Hnatyshyn Developing Artist Award. She recently completed the ReelWorld Film Festival's Emerging 20 Filmmakers' program during TIFF 2014 and was a part of the Women in the Directors' Chair Actors' Ensemble in Vancouver. She has written for the stage, and has co-written shorts, while continuing to develop her screenwriting skills. She continues to train as an actor through Michèle Lonsdale Smith Studios.
LEAH'S MEET AND GREET EXPERIENCE
I am so grateful to the Canadian Film Centre and the entire Window Horses team for the opportunity to have participated in conversation with Sandra Oh and Ann Marie Fleming during the Meet and Greet and subsequent interview on Nov 22 to promote the Window Horses Indiegogo campaign.
I discovered in Sandra a tenacious and inspiring pursuit to be the best artist she can be. She is trying to demystify "fame" and redirect people's attention to the "artist". She has devoted herself to continued training as an artist, constantly digging deeper and discovering more in her craft and as a seeker. Her spirituality, her gratitude, her ambition, and her generosity are so inspiring. And through her hard work and journey in the industry, she has maintained such a killer sense-of-humour about herself and the industry; she was so utterly refreshing and she couldn't stop making me laugh. She is on the frontlines of conversations about casting diversity; both her and Ann Marie have led by example in their casting of Window Horses-- a multicultural cast telling a story about being a multicultural artist!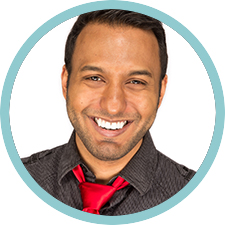 RICHARD YOUNG
Richard Young is Canadian South-Asian actor and writer who always strives to integrate diversity with mainstream. Currently he's in pre-production co-writing the OMNI TV Chinese-North American Kung Fu web series "Sudden Master" (funded by Bell Media). Previous to Sudden Master, he produced/wrote/acted in the web series "Off2Kali Comedy", featuring a who's who of Canadian talent such as Colin Mochrie (Who's Line Is It Anyway?), Charlotte Hegele (Bomb Girls), Huse Madhavji (Saving Hope) and Katie Boland (Reign). Off2Kali has been profiled by CBC's Punchline and screened at the ReelWorld Film Festival (2014, 2013), Filmi South Asian Film Festival (2014, 2013) and Toronto WebFest (2014). Richard's acting television credits include Rookie Blue, Saving Hope, Degrassi and Mayday and he was a lead the feature film English Butler Masala Chai (Vision TV). Richard was also cast in both The Second City's Educational and Family Companies, and his written pieces have been published in Maclean's. The Globe and Mail and The Toronto Star.
RICHARD'S MEET AND GREET EXPERIENCE
I was very honored to be invited to a talk by Sandra Oh regarding both her new project "Window Horses" and her reflection on her life as an artist. As a diverse artist myself, it is inspiring to speak to a trailblazer such as Ms. Oh, where she shared her experiences, victories, and ever present obstacles of flourishing in this uncertain yet rewarding career. Specifically, Ms. Oh spoke about how an actor, after successfully getting a handle of the craft, must continue to reinvigorate his/herself by looking deeper and living a full connected life outside of the arts. These are the words I needed to hear repeated again, for I believe it's this insight that moves an actor from "working professional" to "artist". As such, I'm very excited to see her project "Window Horses" take form, since this animated feature touches on the diverse yet universal experience of understanding and making peace with one's family. It's an exciting project that, evidenced by the passion that Ms. Oh spoke about it, comes from a point-of-view that needs to be brought to fruition.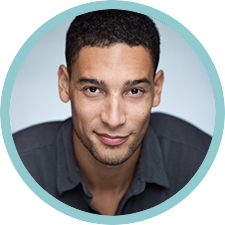 KALEB ALEXANDER
Kaleb Alexander is a Jamaican-Canadian actor, trained at York University's Acting Conservatory. He began his career in Classical theatre performing many of Shakespeare's works with Shakespeare in Action, Humber River Shakespeare and Driftwood Theatre. He has also contributed to many contemporary theatre works with award winning plays such as Dirty Butterfly (Bound 2 Create), Family Story, Dumbo Squid (Birdtown and Swanville), Delicacy (Theatre Brouhaha) and The Speedy (UnSpun). More recently, Alexander has appeared in many film and television productions, including Nikita, L.A Complex and 12 Monkeys, as well as independent films such as Green Laser (Greyzone), Barn Wedding (Floyder Films), Mannish Boy (Ryerson short) and Bone Orchard (Lifeguard Productions). He was named a "Top 10 Artist to Watch in 2013". Kaleb is currently working on his first feature length script that examines relationship and gender.
KALEB'S MEET AND GREET EXPERIENCE
After being greeted by many of my peers some of which I love and respect as actors and artists with warm smiles and big hugs I quickly realized this event was going to be a lot of fun and significantly less formal. The group went quiet not knowing what to expect as Sandra entered the room but with class and style she came in and without hesitation shook each one of our hands thanking us for being there. The curtain had dropped and suddenly it felt like we were now in a relaxed living room talking about diversity and the difficulties of being artists in an ever-changing world. I really felt a new energy and respect for the process and practice of acting as Kirsten Thomson and Sandra spoke quite candidly about how they continue to find inspiration to create even when the circumstances can become less than inspiring. It was clear that Sandra is probably one of the hardest working artists out there. When she spoke of her time working on shows for several seasons and always needing more out of her work and seeking to constantly diversify the people on set instead of sitting back on old standards while continuing her own practice in the studio was inspiring. It was a valuable reminder that getting that big gig isn't what an actor should strive for, it's about the larger scope of what you would like to say as an artist. What makes a role interesting to watch is not only the basic work of the actor to prepare the lines and know the story etc. but, to know who you are as a person and what is it you would like to say, not just the character but the individuals soul adds that extra spice. After having discussed the film industry and Sandra's struggle to give voice to the minority as well as sexual equality I am invigorated to get back to the mat and create! I feel like I have garnered a new respect for my own craft and given the guidance to know how I want to proceed as an artist. Thank you for this wonderful opportunity and an afternoon of inspiration.
12th NOVEMBER 2014:
LA Recording
LA recording from Amf
"All in the Family"
I just came back from our first recording session in Los Angeles.  Genevieve Vincent, exec. Producer at Walker/L.A. (wearewalker.com), and daughter of my long time animation producer friend, Ruth Vincent, set us up with the amazing Charles Scott at Bad Robot.  What a nice environment to record some actors!  It was a very low key and chill music studio.  The first day we recorded Houshang Touzie - who besides being a fabulous actor/playwright is also Shohreh Aghdashloo's husband.  Shohreh will be playing Mehrnaz.  Houshang - I hope he doesn't mind me saying this - sounds like Ricardo Montebalm, when you close your eyes.  What a fabulous, smooth voice!  We also recorded Azadeh Khatibi - who moonlights as an ocular surgeon - Navid Neghaban as the long lost father and Omid Abtahi as the Parisian Rumi.  The Canadians were there, too: the petite and powerful Ellen Page as Kelly, and the amazing Sandra Oh as Rosie.  I didn't realize that it would be so emotional!  As a writer, there is nothing better than being in a studio with these great actors all paying such attention to your words.  No one else will ever ask such in depth questions.  And no one else has all the answers.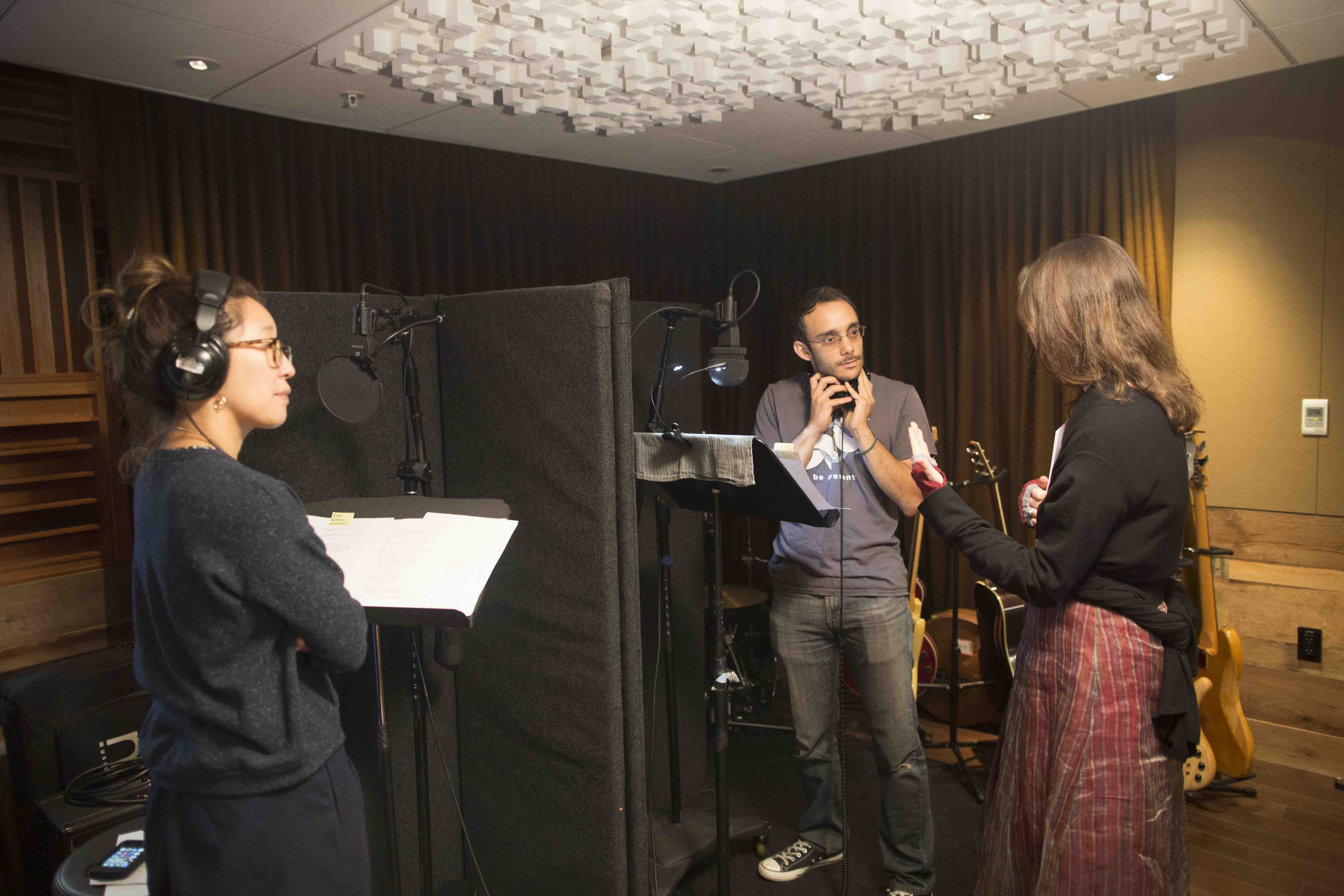 From Left to Right: Sandra Oh, Omid Abtahi and Ann Marie Fleming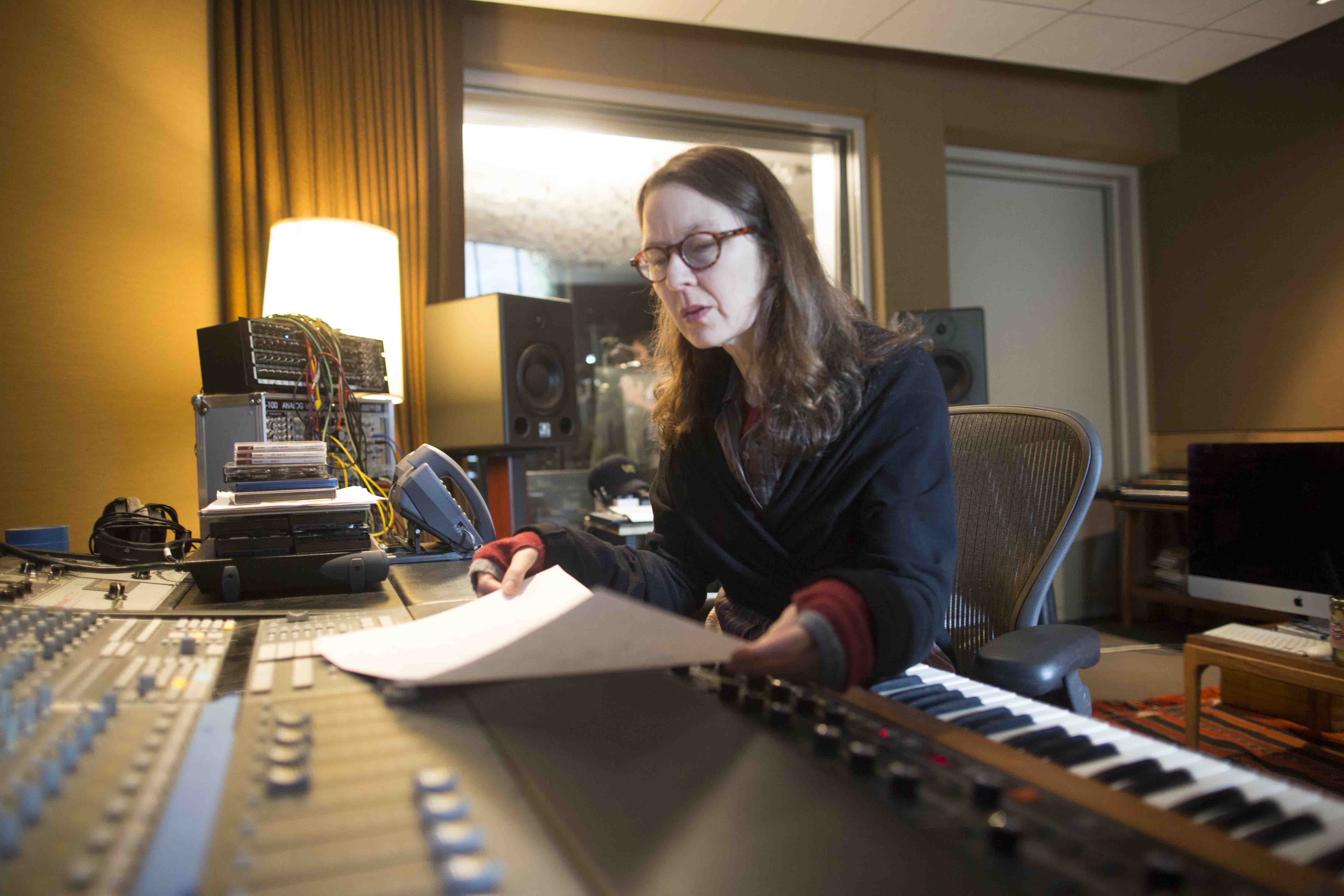 Ann Marie Fleming making magic!